1
« on: October 23, 2019, 02:14:26 AM »
Volibear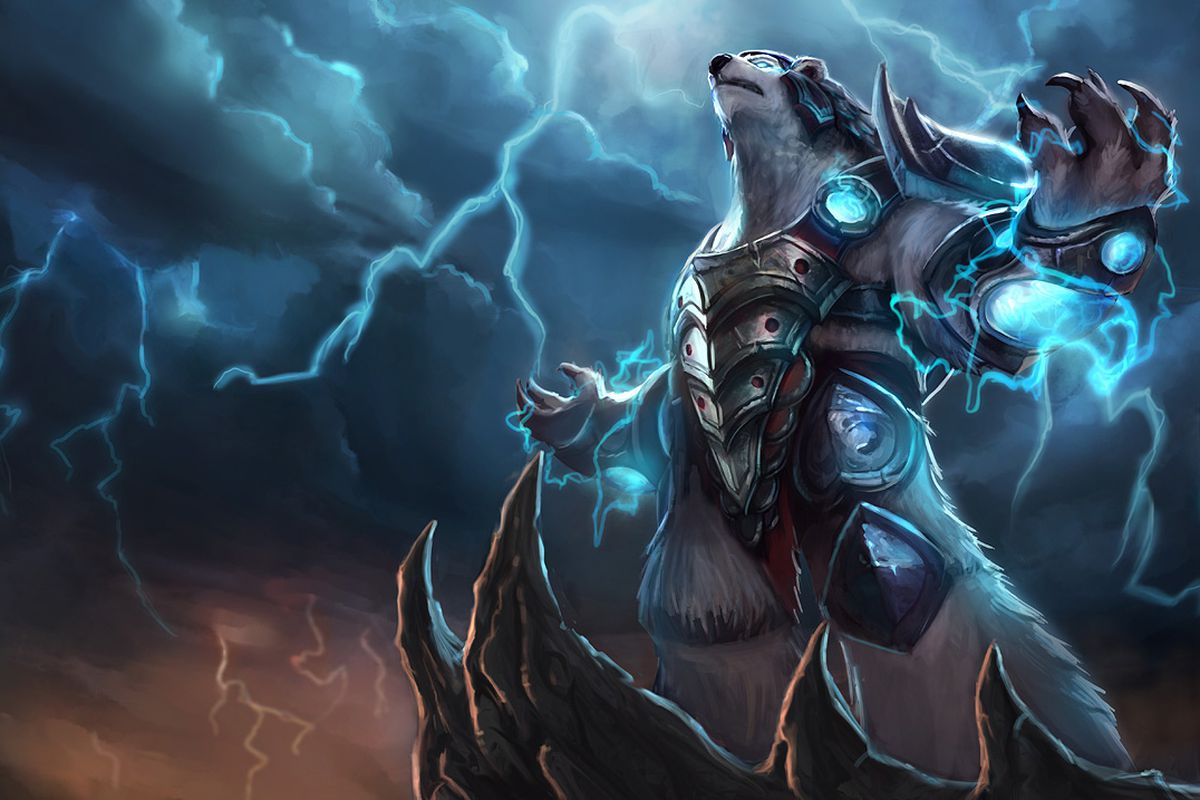 The ursine are a group of bear-people living in the frozen north. Some of them manifest natural storm powers, such as channeling the storm through their bodies, and become known as Volibear, in honor of the legendary first hero of their kind that unleashed such abilities.
Hit Dice:
d8
Level
BAB
Fort
Ref
Will
Special
1st

+1

+2

+0

+2

Volibear Body, Chosen of the Storm, Volibear Talent, +1 Str
2nd

+2

+3

+0

+3

Volibear Talent, Snow Resistance, +1 Con
3rd

+3

+3

+1

+3

Volibear Talent, Storm Resistance, +1 Str
4th

+4

+4

+1

+4

Thunder Claws, +1 Str, +1 Con
Skills:
4+Int mod, quadruple at first level, Class Skills are Balance, Climb, Craft(any), Diplomacy, Escape Artist, Intimidate, Jump, Listen, Knowledge(any), Sense Motive, Survival, Spot, Swim
Proficiencies:
Light, Medium and Heavy armor, simple weapons, his own natural weapons.
Volibear Body:
The Volibear loses all of his previous racial traits and instead gains monstrous humanoid traits (basically darkvision 60 feet). He is a medium sized monstrous humanoid with base speed of 30 feet and two natural Claw attacks dealing 1d10 damage each. In addition he gains a natural armor bonus equal to half his Con mod.
Chosen of the Storm:
If the Volibear drops below 30% max HP, at the start of their next turn they recover HP equal to 30% their max HP (and if they were unconscious and fallen, they can automatically stand up whitout provoking attacks of opportunity). This doesn't trigger if the Volibear dies before their next turn arrives, and after it is triggered, it cannot trigger again for 5 minutes. If there's actually a storm going, this can trigger even if the Volibear is dead and brings them up to 30% of their max HP regardless of how dead they were, but no more than 1 free storm ressurection per year, and the storm must have started before the Volibear died.
Volibear Talent:
At 1st, 2nd and 3rd level the Volibear picks one of the following options. No one may be picked more than once.
Ability Score Increase:
the Volibear gains +1 to Str at levels 1, 3 and 4, and +1 Con at levels 2 and 4, for a total of +3 Str, +2 Con at 4th level.
Snow Resistance
: At 2nd level the Volibear gains resistance to Cold equal to 5+HD.
Storm Resistance
: At 3rd level the Volibear gains resistance to Electricity and Sonic equal to 5+HD.
Thunder Claws:
At 4th level as a free action 1/hour for 3 rounds the Volibear's claw attacks deal an extra 1d6 electricity and 1d6 sonic damage. Whenever they hit an enemy with their claws while this effect lasts, they may make the thunder jump to a second target whitin 30 feet, then a third target whitin 30 feet of the second, inflicting them the bonus electricity and sonic damage. At 8 HD and every 4 HD thereafter, increase the electricity and sonic damage per 1d6 and one extra enemy may be affected. No enemy may be affected by each "chain" of Thunder claws more than once per round.